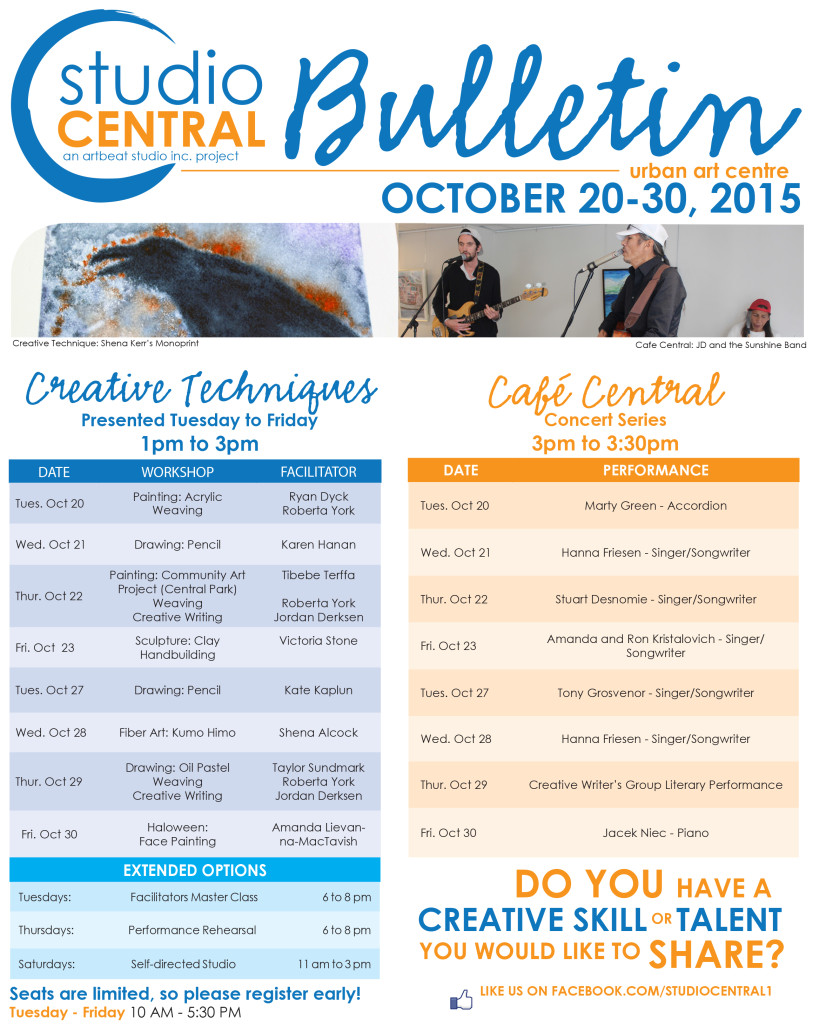 Please Join us on Thursday, October 22 at 1 p.m. for a special community project led by artist Tibebe Terffa. Come prepared to fling paint and meet us in Central Park by the fountain. Distance from (A-B) celebrates understanding and cooperation.
On Wednesday, October 28 at 7 p.m. Artbeat alumni Corey Benoit will be giving an artist talk at the Millennium Library. Five of Corey's pieces are on display at the library on the second level.
Clint Roscoe's show Empathy is currently on display in the cafe gallery. He will be giving an artist talk Thursday November 19th at 4:00 p.m. All are invited to view Clints work – a combination of watercolour, mixed media and acrylic artworks. Â Viewing Hours are Tuesday – Friday 10 am – 5:30 pm at 444 Kennedy Street.
Please make sure to read Kaleidoscope – an online zine of poetry. To read the latest poems visit - https://artbeatstudio.ca/kaleidoscope-online/. We are over the 100 poetry mark – now at 110 poems!
The Facilitator's Master Class, Performance Rehearsal and Saturday Self Directed Studio are accepting registrations. Please call 204 -943-8290 to register. We look forward to seeing you!
You can download a PDF print version of the Bulletin here, and keep up to date with the online Events Calendar here.